08 Jul

Larisa's Salon Offers Manicures and Pedicures!

Looking to experience a relaxing day of pampering? At Larisa's Salon, we can do just that! Our manicures and pedicures (make blue and send to southeastern) are known to leave our customers satisfied and feeling relaxed. We believe our customers deserve an hour of bliss and pure relaxation. We offer regular, gel, and Russian gel manicures, Tips and Gels and so much more! Our pedicures also range from French pedicures, Spa pedicures, foot treatments, etc.

Our pedicures and reflexology treatments are loved by many of our customers. With so many options to choose from, we leave our customers feeling satisfied and ready to book their next appointment!
Benefits to Manicures and Pedicures
Some might say getting a manicure and pedicure is considered a luxury and not a necessity. But to those people, we say you're wrong! Getting a professional manicure and pedicure helps aid the development of your nails. It keeps them looking and feeling healthy. For both men and women, it is highly recommended to receive a professional treatment at least once a month. Since we use our hands all day long while working in an office or at home, we need to take proper care of them. The same is the case with our feet, we put so much pressure on them, so it's necessary to give them some de-stressing, and pampering while visiting our professional salon (send to southeastern).
Besides the health benefits of our services, it also aids in keeping your hygiene level up to par. Many times, we forget that individuals do glance over at our hands when working, communicating through hand gestures, and even with a simple handshake. Receiving monthly manicures and pedicures is highly recommended and our professional nail technicians (send to southeastern) guarantee the best possible service!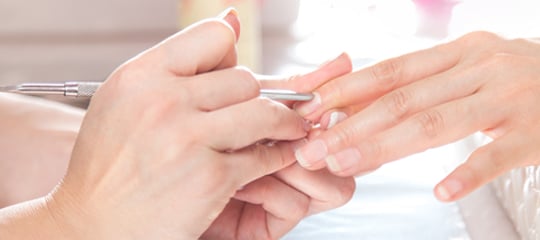 Enhancing the Well-being of your Nails
Being consistent with manicures and pedicures, the chances of your nails developing any infection or fungi are decreased. Our hands are exposed to a lot of outer elements and products daily. It's a smart idea to have a profound cleaning so the dead skin cells on your hands can be removed. Oftentimes, people rip off and bite too much of the cuticle skin around their nails causing infections. Having a professional nail technician remove those dead skins and cuticles allows the prevention of these common irritations and infections. At Larisa's Salon, our highly trained nail technicians will advise which manicure and pedicure treatment will fit you best depending on your condition.
Contagious Infections
Fungi often develop on toenails when your feet are exposed to excess moisture. Mostly, it takes half a month for the contamination to become noticeable. But, an expert manicurist can recognize parasitic contamination even in its initial stages, when it is most effectively treated. Getting regular pedicures is an extraordinary approach to keeping up the well-being of your toes. Our expert nail technicians will be able to detect and aid you in the treatment that you need. If your case worsens or doesn't improve, it's advised to see a medical specialist.
Mental Well-Being
A mani-pedi is an incredible approach to unwinding and being spoiled. At Larisa's Salon, we offer many different types of spa treatment pedicures such as our Spa Pedicures, Pedicure and Reflexology, and Foot treatment along with Reflexology. (make blue and send to south eastern). You can also get your nail polished, can choose gel nail designs, have spa nails, or go for UV gel nails, etc., after your mani-pedi.
Both the physical and mental health benefits of getting a nail treatment are extraordinary. Your feet and hands will both look and feel amazing, your stress will go down, the pain will be gone, and your blood circulation will increment. The entire technique takes very less time, so visit us at Larisa's Salon to make your appointment (send to southeastern) today!
Reflexology Pedicures
Reflexology is an alternative medicine involving the application of pressure to the feet and hands with specific thumb, finger, and hand techniques without the use of oil or lotion. It is based on a system of zones and reflex areas that reflect an image of the body on the feet and hands, with the premise that such work effects a physical change in the body.
At Larisa's Salon, we offer reflexology pedicures that not only provide the benefits of a regular pedicure but also focus on specific pressure points in your feet that are connected to different parts of your body. This type of pedicure can help to relieve stress, tension headaches, neck pain, and even sinus problems. If you are looking for a pedicure that will provide you with more than just the benefits of a regular pedicure, then a reflexology pedicure is the perfect choice for you!
Visit Our Location!
We service all of our clients on time and always make sure your appointments are booked beforehand. We are located in Fresh Meadows Queens, NY but service customers from all boroughs! If you are ready for that ultimate spa treatment or to get those highlights you've been dying to get, visit us today!
Address: 75-84 179th St, Queens, NY 11366
Phone: (718) 380-1222